AR: The new kid on the block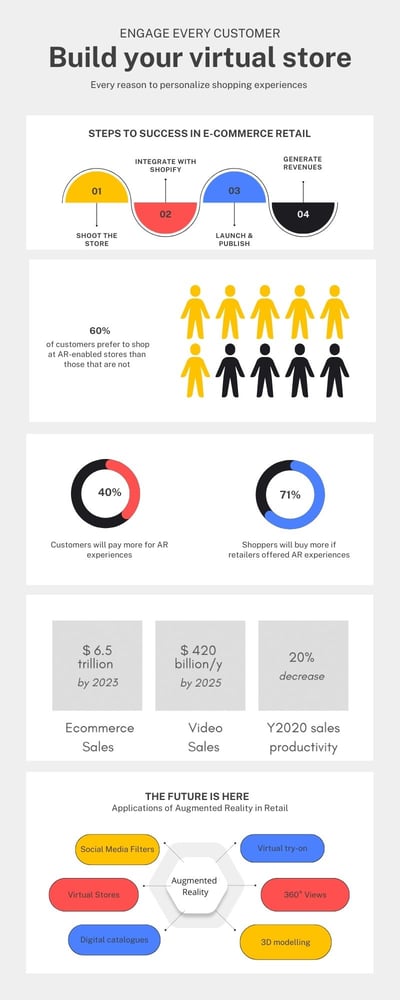 Consumers desire experiences without a shadow of a doubt. Experiences are distinct economic offerings that are as real as goods, services, or commodities. In their book The Experience Economy, Pine and Gilmore write 'experiences have always been around, but consumers, businesses, and economists lumped them into services.' What was once at the heart of entertainment expands into other goods, services, and commodity sectors. Brands going after meaningful market share go beyond their traditional function and compete based on providing a personal, immersive, and memorable experiences
This is just as true in the retail industry. Today's retail SaaS companies package experiences around their offerings to sell them better. In this light, Augmented Reality is another very important part of these new developments in e-commerce. The companies who get it right are the ones who stage these experiences well.
Consumers can view, hear, touch, drive, sit, walk, or fly through untold product possibilities experiencing myriad emotions. Besides the quality of the product or services, shoppers place a premium on speed, reliability, assortment breadth, flexibility, and human connection. Unlike traditional offerings, experiences are unique to each person and depend on their state of mind while interacting with staged environments.
In e-commerce today, the goal is to make online visits every bit as immersive, enjoyable, and informative as in-person alternatives are. The market opportunities are tremendous as e-commerce sales are projected to hit $6.5 trillion by 2023 and if this trajectory continues, it is likely to reach $8trillion per year by 2025. They are projected to hit live video commerce in India is predicted to reach 420 billion a year by 2025. This said, in the pandemic years, salesperson efficiency had dropped by 20% on account of poor walk-in numbers. That's all going to change.
For instance, Snap goes big on AR and Google gets behind discovery ads. Meta and Twitter are expected to launch live shopping later this year. Digital trial rooms are dreamier than Cher's technology Wardrobe from Clueless. Virtual try-on technology has sparked off a domino effect across fashion, beauty, optics, jewellery, furniture, luxury, and even automobiles. Snapchat reports that 50% of GenZ are likely to pay attention to an ad if it uses AR.
The numbers have it that customers and shoppers prefer to pay and shop more with AR. Even before the pandemic, a few players were ahead of the curve. Think Tanishq installing AR kiosks in Delhi and Bangalore airports. Their VR tech lets customers try out jewellery. Or Lenskart offers 3D face modeling, a virtual service that helps customers try the frames. The tech measures the user's face from multiple angles to map the face, different angle views, and tracks preferences and historical data to make checkouts faster, efficient, and fun for users.
To an experience-hungry audience in the experience economy, experiences like these are what make your brand tick and customers connect with retail brands today.
If an Indian retailer sets shop online with AR/VR technology, promotes it among his existing customer base, and converts physical walk-ins to virtual ones. It is guaranteed to increase revenue, and expand reach through word-of-mouth and digital marketing effort. Besides, the investments in a virtual store are far less than in physical branches. And the ROIs can be set to become disproportionately large if vendors can tap into these overlooked opportunities.
VIRTUAL RETAIL UNPARALLELED
Highly immersive experiences at scale