What is the O2O Sales Strategy?
In the early days of e-commerce, retail sales and e-commerce sales were exclusive islands that competed with each other for every sale. But not any more. Businesses have realized the importance of focusing on both the digital and offline channels and have reaped rewards from the complementary role they can play to increase sales. An Online-to-Offline (O2O) sales strategy involves creating a seamless digital experience to push consumers on online channels to offline physical stores.

The most common form of the O2O sales strategy involves identifying customers online through email campaigns, advertising, offers, and promotions to attract them to the physical store to make a purchase.

Another common form of O2O sales strategy is using web presence to increase awareness of the brand and the product. Over 50% of every purchase starts online - potential customers might want to look up information on a product and compare pricing and features with other options online before deciding to try them on or check them out offline, and then decide to buy either offline or online.

Product discovery is a critical part of the purchase journey of a customer. Apart from the internet, some brands also provide in-store information booths or mobile retail kiosks for a seamless experience.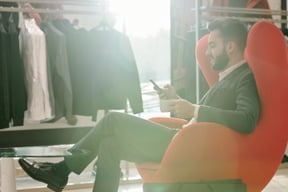 Evolution of O2O Strategy
With time, the O2O strategy has evolved with rising use of the internet for shopping and technological advances like ShopConnect's virtual tryon that enable customers to simulate the real world usage of the product. This has helped reduce the role of offline channels, especially during the pandemic. Stores are now used as delivery pick up points or for dropping product returns.

A key trigger for the evolution of the O2O commerce is online e-commerce giants like Amazon going offline or using brick and mortar stores for delivery and return pickups. Now, a reverse O2O commerce is in play. A rising number of stores are going online. These trends have led to a shift in the O2O strategy that integrates online and offline channels, using one to promote the other.

Businesses are using offline channels to encourage customers to promote their online channels that increase the convenience for customers. Advances in technology like virtual reality, 3D imagery, live video selling have also paved the way for online experiences that replicate the brand in-store experience in the online channels.

All these various forms of O2O sales strategy have one thing in common - they allow, encourage, and enable the seamless movement of customers between the online and offline channels. The ultimate goal of the O2O sales strategy is to provide a seamless customer experience that leads to an increase in traffic and sales.
BOOST SALES WITH A VIRTUAL SHOPPING EXPERIENCE